Evelyne de la Chenelière
Writer and actor Evelyne de la Chenelière was born in Montreal in 1975. A former member of the Nouveau Théâtre Expérimental, the company co-founded by Jean-Pierre Ronfard, she approaches playwriting as a research laboratory, a creative workshop where she develops a score destined for the stage, a text written to inhabit the actors' bodies. Her plays, produced (in the original French and in translation) in Quebec, across Canada and around the world, are also literary works in their own right, and investigate the ways language shapes thought and expression. Lumières, lumières, lumières, premiered in October 2014 and directed by Denis Marleau, launched Evelyne's three-year artistic residency at ESPACE GO, where her unique process includes writing on one of the theatre's interior walls.
"Each hour, happy or painful, which I dedicate to thinking and writing, I live as a privilege. Being nominated for the Siminovitch Prize, alongside creators so inspiring in their course, their desire and their determination, reaffirms the feeling which carries me: I am never entirely alone when I am writing.

There exists, and I sincerely believe this, an invisible thread which links all men and women of all times and all over the world, who are trying to rethink the world, to unseal our interpretations, to open and search through our condition of living in order to get closer to its heart.

In my eyes, the Siminovitch Prize salutes not only the path and the influence of an artist, but it also celebrates the importance of art in our lives and its occasionally indelible impact."
Hannah Moscovitch
Hannah is an acclaimed Canadian playwright, librettist and screenwriter. Her work for the stage includes East of Berlin, The Russian Play, Little One, This is War, Infinity, What a Young Wife Ought to Know, Bunny and Old Stock: A Refugee Love Story (with Ben Caplan & Christian Barry). Her plays have been produced across Canada as well as in the United States, Britain, Ireland, Greece, Austria, Germany, Japan and Australia. She's won multiple awards for her work, including the Dora Mavor Moore Award for Outstanding New Play, the SummerWorks Performance Festival Prize for Production, the Toronto Critic's Award for Best New Canadian Play, the Trillium Book Award (Hannah is the only playwright to win the honour in the Award's twenty nine year history) and the prestigious international Windham-Campbell Prize administered by the Beinecke Library at Yale University. She is a playwright-in-residence at Tarragon Theatre in Toronto.
"Being shortlisted for The Siminovitch Prize lifts me and holds me up. On the dark days, I can remember that my colleagues (and through them, my art form and my beloved country) see me clearly, are on my side, and recognize the meaning and value of what I do. The past recipients of the Siminovitch, along with the 2017 co-finalists, are phenomenal artists whose work I have admired and emulated for years. I am so very honoured to be on the list with them."
Donna-Michelle St. Bernard
Donna-Michelle St. Bernard aka Belladonna the Blest is an emcee, playwright, administrator and agitator. Works for the stage include Sound of the Beast, They Say He Fell, A Man A Fish, Cake, The House You Build, Salome's Clothes, Gas Girls and interdisciplinary co-creation 501: Toronto in Transit with Bob Nasmith and Justin Manyfingers. Her work has been recognized with a SATA nomination, Herman Voaden Playwriting Award, Enbridge PlayRites Award, Dora Mavor Moore Award for Outstanding New Play, and two nominations for the Governor General's Literary Award. Recent publishing achievements include guest editing for Canadian Theatre Review and alt.theatre magazine, as well as co-editing Playwrights Canada Press anthologies Refractions: Solo, Refractions: Scenes and Indian Act (upcoming). She is Emcee-in-Residence at Theatre Passe Muraille, Playwright-in-Residence at lemonTree creations and a vocalist with Ergo Sum. Upcoming: Cake at Theatre Passe Muraille in fall 2017.
"There is so much power in acknowledgement. I recognize in this nomination the ongoing faith, patience and investment of my communities. I celebrate the excellence of my fellow nominees, as well as the countless gifted artists who have not yet been elevated into visibility. I am grateful for the legacy of Canada's distinctly courageous storytellers, especially for the indelible aesthetic and ethical influence of my artistic forebears: Yvette Nolan, Djanet Sears, Dionne Brand, Jani Lauzon, Cheryl Foggo. God is good."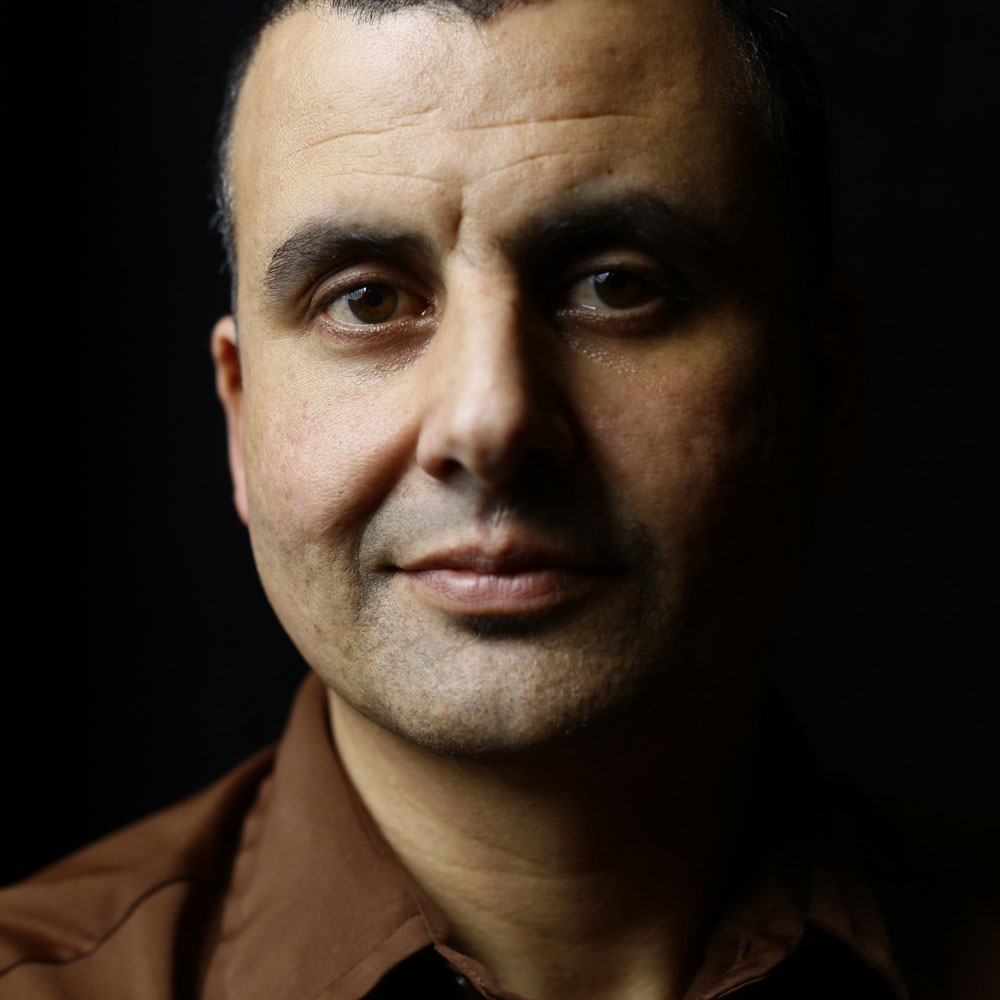 Marcus Youssef
Marcus Youssef has written and co-written some of Canada's best-known theatrical investigations of otherness and difference, including Winners and Losers, King Arthur's Night, Leftovers, How Has My Love Affected You?, Ali & Ali, Chloe's Choice, Everyone, Adrift, Peter Panties, Jabber and A Line in the Sand. His works have been performed across North America, Australia and Europe, and published by Talonbooks and Playwrights Canada Press. Awards: Canada Council Lynch-Staunton Award, Rio-Tinto Alcan Performing Arts Award, Chalmers Award, Arts Club Silver Commission, Vancouver Critics' Choice (three times), a Governor General's Literary nomination, and numerous Jessie Richardson Awards, Dora Mavor Moore Awards, Montreal English Theatre Awards and nominations. Marcus is Artistic Director of Vancouver's Neworld Theatre, and co-founder of the artist-run production centre, PL1422. In 2016 and 2017 he was Senior Playwright-in-Residence at the Banff Playwrights Colony. Marcus is Editorial Advisor to Canadian Theatre Review, Canadian Fellow to the International Society for Performing Arts and Adjunct Professor of Creative Writing at the University of British Columbia.
"The Siminovitch Prize means so much to me and – if I can say this – to the theatre community across this enormously small country. It is an extraordinary commitment to Canadian theatre and theatre artists. There is simply no other award like it, both in terms of prestige, and the practical difference it can make for nominees and winners. This is especially critical because it honours artists in midlife, who are at the peak of their career's practice and output. It is also when I think many of us begin to wonder about our choice to become artists in the first place, about its relative importance or utility, and about what may happen to us and our families as we age. The Siminovitch Prize is a bold, powerful antidote to these real and understandable pressures. It honours the idea that it might make sense for us to dare to think it is legitimate to be a working artist through our whole lives. This is the sign of a mature culture. As the tiny neighbours of the world's dominant power, I believe we must be unafraid to mythologize ourselves, fiercely and unapologetically. This is precisely what the Siminovitch Prize permits us to do."