Image: Name, Title, Description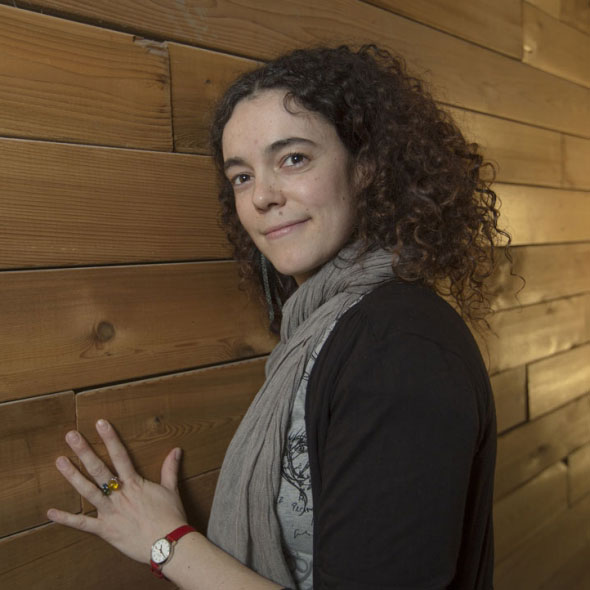 Inspired by the wish to create impressionistic theatrical experiences, Geneviève L. Blais founded the Théâtre à corps perdus in 2003, with a group of like-minded artists whom she met while at the National Theatre School of Canada. Through this company, she explores contemporary writing that evokes things for which we cannot find the words, things for which we have no words. Her approach leaves a central place for the writing of the body, in dialogue with the architecture of the space.
Drawn to work in significant urban sites, she is now engaged in a work-in-progress of short, site-specificplays, the first of which will be created in collaboration with the writer Naïma Phillips, and titled Rendezvous No. 1: daycare class. She has orchestrated happenings in unusual places, including an urban ambulatory piece inspired by first-hand accounts, entitled Perdu/Trouvé (Festival l'Écho d'un fleuve, 2009) and two short sight-specific pieces: Chevreuil by Catherine Léger(Festival L'Écho d'un fleuve, 2010) and Portrait of a Dreamed Life by Dominick Parenteau-Lebeuf (Festival d'Innovationthéâtrale de l'Assomption, 2005).She is currently preparing the French-language premiere of Erin Shields' disturbing contemporary tragedy, If We Were Birds, for the fall of 2015 at Théâtre Prospéro.
Last April, she was invited to Morocco to represent Québec in a kind of hothouse for artists, organised by la Commission internationale de théâtre de la francophone, which focused on writing for public spaces. There, she presented the sketch for a performance in the form of a walkabout through the streets of Marrakech, developed in collaboration with a trio of artists from Belgium, Cameroon and Canada. 
Subscribe today to the monthly e-newsletter.
> Be the first to know about current artistic projects of the Siminovitch Prize community.
> Learn about emerging artists who are shaping the future of Canadian theatre.
> Stay informed about upcoming opportunities and calls for nominations.