Image: Name, Title, Description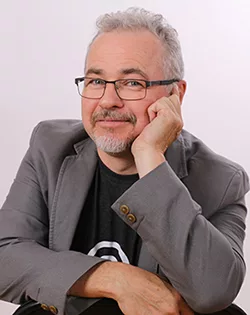 Détenteur d'un certificat de deuxième cycle en journalisme, c'est d'abord avec sa plume que Luc Boulanger s'est démarqué. Il a écrit une cinquantaine de pièces de théâtre qui sont diffusées dans internet et jouées partout sur la planète ; de Fermont au Kirghizistan, en passant par Singapour et Genève.
Il est cofondateur de la troupe de théâtre Animagination qui présente depuis plus de 30 ans des spectacles pour jeune public. En plus de concevoir les pièces, il est également comédien. La troupe se produit entre 50 et 100 fois par année au Québec et dans la francophonie canadienne. Animagination a eu la chance de travailler avec l'auteur Dominique Demers pour la conception et la présentation d'une pièce de théâtre mettant en vedette le personnage de Mademoiselle Charlotte. 
Subscribe today to the monthly e-newsletter.
> Be the first to know about current artistic projects of the Siminovitch Prize community.
> Learn about emerging artists who are shaping the future of Canadian theatre.
> Stay informed about upcoming opportunities and calls for nominations.