Image: Name, Title, Description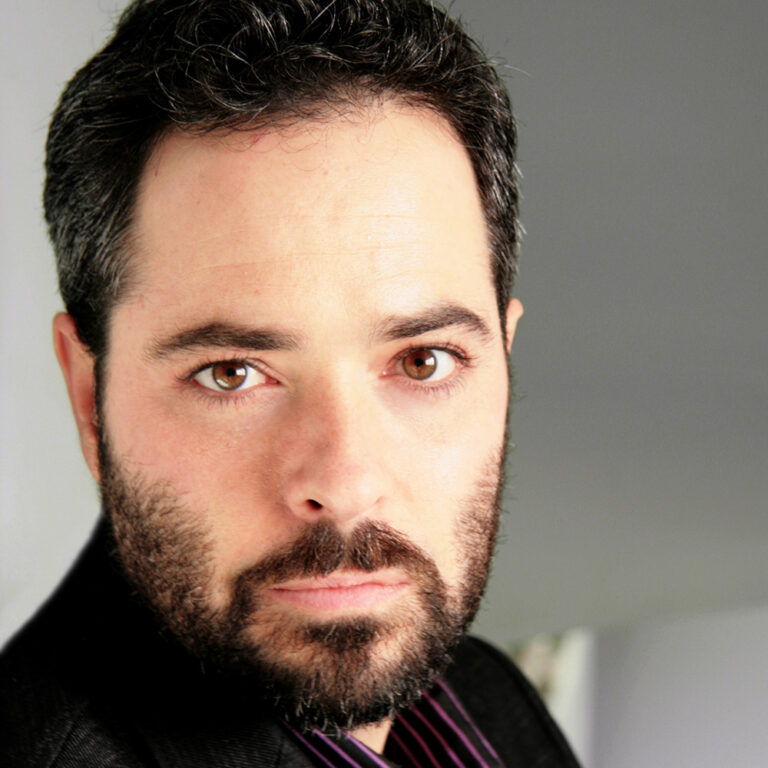 Chris Abraham is Artistic Director of Toronto's Crow's Theatre and is creating a permanent home for the theatre in the city's East End. He's made a name for himself through his highly successful productions seen in theatres ranging from the smallest to the largest. Recent productions include the classics The Taming of the Shrew and A Midsummer Night's Dream at the Stratford Festival, and The Seagull for Canadian Stage. He's developed and directed hit new plays such as I Claudia with Kristen Thomson, SEEDS and The Watershed by Annabel Soutar, and Winners and Losers by James Long and Marcus Youssef, all of which have toured widely. He was the first person to both win the Siminovitch Protégé Prize (selected by recipient Daniel Brooks in 2001) and be the Siminovitch recipient in 2013. A graduate of the National Theatre School, he later served as co-director of its Directing Program.
I want to start by thanking Lou Siminovitch and the other founders for your initial vision, and the rest of family again for your great creativity, tenacity, and grit in finding a way to save and sustain this incredible prize. I also want to thank John Van Burek, and the rest of the jury for this tremendous honour. And, of course, I'd like to offer my congratulations to my fellow finalists Benoît and Marie-Josée. Felicitations.
When Daniel Brooks called me in 2001 to tell me that he had selected me as his protégé for the inaugural Siminovitch Prize, I was 26 years old. That year I had directed the premiere of Kristen Thomson's I, Claudia at the Tarragon Theatre — a work and a collaboration that cemented my commitment to making new plays, and one that sharpened my understanding of, and obsession with, creating artful precision without destroying the beautiful and unwieldy chaos at the centre of a piece great of theatre. This pursuit still remains my particular white whale.
Given that I have the honour of being the first Siminovitch Protégé — and hopefully not the last — to also win the prize, I found myself thinking a lot about its impact and the distance I've travelled since then. And that's what I'd like to speak about tonight.
Before I do, though, I want to thank RBC for stepping forward to support this vital component of the Siminovitch Prize — the protégé award. The protégé award is the heart of the prize and what, I believe, makes it unique amongst arts awards.
It was because of the protégé award that a door opened for me to mentorship, collaboration and friendship with director Daniel Brooks — someone whose work I had admired at a distance, but did not know personally. I want to thank the founders for their great insight in recognizing the centrality of mentorship in the ecosystem of our profession and embedding it in the DNA of the prize. I've had the privilege of being involved in the training of directors at the National Theatre School of Canada for many years, and now with the Canadian Stage and York University MFA program, and it's been easy to see the pivotal role that mentoring plays in forming directors and sustaining them in the early stages of their careers — it's essential.
So in 2011, When Daniel called to tell me that he had selected me as his protégé, I didn't know him personally — as I said — but being selected by him nevertheless meant a great deal to me, because he was the first director whose work truly spoke to me. His productions inspired me and taught me — for example, the way a good design reveals itself over time and in relation to other elements of a play experience — the text, the performance, the lighting and the sound. My time as audience member in Daniel's theatre also sharpened my appetite to make work that was both personal and political.
At the time, I was working at the Theatre Centre on a project called The Vindication of Senyora Clito Mestres — another one-woman show. I was about to open the play in Toronto before taking it to the National Theatre in Belgrade, Serbia. This was only two years after the NATO led bombing there. The play was produced and performed by a Serbian-Canadian actress who had spent many years as a member of National Theatre in Belgrade. She left for political reasons and emigrated to Canada. Not only was the play itself about vindication, but I also felt the ways in which taking the production back home was intended as a kind of vindication for her — that she had survived, that the artist in her had prospered in her new home. But looking back on it, I don't think I was able to fully appreciate her courage in in the moment — in part, because, I was suffering from an acute desire for vindication myself.
In the fall of 2001, I was five years out of the National Theatre School directing program and had just had the worst experience of my life, directing a play. After five years of initiating projects on my own, I had finally been offered the opportunity to direct a great classic text by a great theatre company in Toronto. So it was especially difficult to have the experience blow up in a such a dramatic fashion — and blow up it did. In fact, I did quite a bit of the blowing up myself. The lead actor and I clashed continuously and, to make matters worse, I felt alone in my feeling that it was all his fault.
So, even as I was standing up on this stage 13 years ago, getting the protégé award, only months after the show had closed, I was still feeling confused and embarrassed and didn't understand why things had gone so terribly wrong and why the whole thing had happened to me. Receiving the protégé award from Daniel gave me a great sense of validation when I really needed it — but it also made me feel a little like a fraud. My recent disaster had left me with a lot of scar tissue.
Pretty much right after the Siminovitch ceremony, I went off to Belgrade to open the show. The theatre itself was an amazing place. It was a massive block of buildings anchoring the town square. Built in 1869, the National Theatre was the only state building open to the public during the 78 days of NATO air raids. Also on tour to Belgrade was my lighting designer, Jan Komárek, another great artist who had also left Europe to make a life for himself in Canada. His sense of the tactile qualities of light, its musical and mystical properties, had a big impact on me. His sensitivity to the difference between a 9 percent and 10 percent on a cheap Fresnel, and the way he played the lighting board like it was a musical instrument, helped shaped the way I see lighting design.
When we arrived at the National Theatre, we were given the tour of the massive building. We walked through the set storage facility with 100-year-old painted drops stacked side by side. I was shocked to see what seemed like hundreds of crew people still working at the theatre, as they had done for most of their lives under a communist regime, but now for only a pittance. At night I went out and met other young people, who were all highly educated and unemployed. I didn't meet a single young person in Belgrade who wasn't planning their escape to places like Canada where they saw more opportunity — and they weren't looking back. Their ambition and fearlessness inspired yet frightened me, and made me think about how the safety and stability of home had made me fear loss, had made my art timid.
The days leading up to the opening of the show were filled with nightmares. The sizeable, but moderately drunken, crew didn't seem to appreciate the difference between the 9 percent and 10 percent in lighting levels that Jan and I were so passionate about, much less that all the lights we asked for get hung in the air. My actress was contending with the stakes of the homecoming, and I wasn't able to help her, as I was busy trying to figure our how to ensure that my vision of the show was realized to my standards. The day of the show's opening, I was asked by the theatre's Associate Artistic Director to leave the leading actress to herself. I was pissed off. "We are opening today and I needed to speak to her," I said. I was told she was being attended to by the country's surgeon general in her dressing room. "I'm sorry, the surgeon general?" Was I living in a Bulgakov novel? I was told she had suffered a kind of nervous collapse due the pressure I was placing on her. I was outraged! I wanted to speak to her but the surgeon general forbade it. This was crazy. After trying several times to speak to her, I decided that I was going to quit the tour the next day. The show opened and what followed was a caviar-, vodka-, and tear-filled celebration in the Artistic Director's office, overlooking the town square. My actress was there, crying and singing with her old friends and colleagues; songs that seemed as much about losses in the war as anything else. It was beautiful and strange and ridiculous all at the same time. I now felt sure I was living in Bulgakov novel — except I didn't understand why I was there.
I walked home feeling embarrassed and confused about my need for the show to be just so. I went back to my hotel and went to bed. When I woke up, I knocked on my actress's door and informed her that I wouldn't be continuing on the tour. She didn't seem all that shocked and didn't really try to convince me to stay.
That day I got on a bus to Budapest to visit a Hungarian director friend, Láslzó Marton. Láslzó showed me around his theatre and took me to lunch. I told him about my experience in Belgrade and my scar tissue in general, and this feeling of injustice that I felt plagued by. He thought about my situation for a few minutes in silence, had a few bites of soup, and then he said to me, with a sobriety and weight that was uncharacteristic for his jovial self — "The theatre is crazy, actors are crazy. If they weren't crazy, they couldn't do it. There is no such thing as fairness in the theatre. Don't expect it." He went on to tell me that it took him a long time to realize that, and that it was one of the most important things he had to come to terms with as a young director.
I believed him, and what I took from his advice was that there is only so much order, only so much control, that you can exert on the theatre, only so many rules. That the theatre, like life, is in its fundamental nature something wilder, that resists too much control and that this isn't a bad thing. He went on to say that if actors, writers, and — only very occasionally — directors, didn't behave irrationally, that the theatre would be poorer for it. That it's the director's job to accept this as part of the reality of the art form and that's what the art form has to teach us about life. I've grown to see this reflected in so many of the great works of art I admire, especially in Shakespeare, who is always creating cautionary tales about the fantasy of control: The Tempest, Measure for Measure, and even Hamlet — in which I think he posits that an over-reliance on reason is actually the source of Hamlet's tragedy.
But I also think that László was trying to prepare me for a life, and life in the theatre, of unexpected consequences and of ups and downs and triumphs and crushing failures, and to accept that all this ephemerality and chaos in theatre is part of its lifeblood.
A few years later, in 2006, my good friend and frequent collaborator — who I need thank for nominating me for this prize — and I went on a research trip to South Africa for a piece that we were working on, cleverly titled "an untitled work in progress." The piece was in some ways inspired by Herman Melville's Moby Dick and we had been prompted to go to South Africa by the fact that Ahab has a momentary sighting of the white whale around the Cape of Good Hope. Our piece started with a desire to understand whether political theatre — when it works — drives change in a society or whether it just reflects it. We thought that South Africa was a good place to start because of the importance of theatre during the apartheid era. We were moved and inspired by the stories we heard, and shocked by the enormous disparity between rich and poor in the country. It was my first time encountering poverty on a massive scale, and also spending time with other artists who were themselves terribly poor. Amongst the many lightning-bolt moments for me on this trip was the shameful realization that somewhere inside me I carried the belief that I deserved the privileges and opportunities that I had and they were not an accident of birth. I realized how powerfully and invisibly this had functioned as a way to shield me from the nightmarish inequities of the poverty I was now encountering. During my trip it was impossible for me to protect myself from this fact. The shock of it was profound and hard to shake. I returned home and was devastated to discover how easy it was to do just that. Even though the work that I've chosen to pursue as a result has been influenced by this trip, what I experienced with my friend in South Africa still haunts me — and I don't think this is a bad thing.
As my career advances, and I've become more of a beneficiary of the official culture that I sometimes criticize, I experience the contradictions of my life as an engaged artist in new ways. I find that in an attempt to create balance in the politics of my work, I sometimes end up staying silent or obscuring the very thing that needs to be said out loud. When I first started dating my wife, my mother-in-law, Satu Repo, a founder of This Magazine in Toronto, gave me a framed quote by Norman Bethune. It says, "The function of the artist is to disturb. His duty is to arouse the sleeper, to shake the complacent pillars of the world…. In a world terrified of change, he preaches revolution — the principle of life. He is an agitator, a disturber of the peace — quick, impatient, positive, restless and disquieting. He is the creative spirit of life working in the soul of man." Sometimes I look at this quote with wonder and other times I wonder whether this idea of the artist is somehow a relic of an age gone by.
When I was completing my time as the co-director of the National Theatre School's directing program several years ago, I was asked to accompany the theatre school's new program director on the audition tour across the country. I was essentially riding shotgun for the new program director, who was a white South African but had recently moved to Montreal for love. At the outset of each interview, she asked each applicant a simple question. The question was, "What do your ancestors demand you break the silence on?" I was shocked by question. "What do your ancestors demand you break the silence on?" The terror I felt was shared by almost all of the young directors she asked the question to. I think it's a challenging question and has some built-in traps, but I also think it's a very good one. When I shared the experience and the question with colleagues, it was amazing to me how many found it to be a "bullshit" question. I mean, I understand, we're a young country without a strongly felt relationship to our own history, and many of us came here to get as far away from the ancestors as we could. So I would say… "I don't think you need to think of your ancestors literally." No dice. All the same it's never a question that I was able to really answer when it was turned back on me.
So, I decided as part of my remarks tonight that I would try to answer and speak to this question today: "What do my ancestors demand I break the silence on?"
Well, to start, I'm going to choose to interpret "ancestors" to loosely mean my parents. I don't really know my ancestors. My parents are American and they moved to Canada, and we found ourselves to be a pretty self- contained little unit. So when I think about ancestry, for some reason my mind focuses in on my parents. Maybe I'm cheating, but I don't think so. They both came from large working class Catholic families and devoted the first part of their life to service in a very explicit way and continued throughout my life to be involved in social justice issues. Perhaps that's why they understood something about the sense of mission I felt at a young age and the sense of possibility I felt about art.
So what do my ancestors demand I break the silence on right now? Well if my ancestors are my parents, and my father is sitting in the room right now, I know what he'd tell me to break the silence on. But I don't mean literally what do my parents demand I break the silence on. I mean the echo of my parents' values that resides within me. So in that spirit, I suppose that for right now, for tonight, I'll confess that my ancestors would like me break the silence on my own fear of self- censorship. I am in the middle of a capital campaign trying to raise millions of dollars for a new home for Crow's Theatre. So I'm talking primarily about myself here, and a more general concern second — that we, as artists, will lose our nerve, shirk our responsibility, turn a blind eye to, stay mum about, avoid tackling, dumb down, or be less rigorous on the pivotal issues of our times. I fear this, because I can feel the temptation myself. Because it is more convenient, easier, smarter, and safer to do so. I think it's more important than ever that we work as champions of an engaged and empowered citizenry and we do this by attempting to tackle the most challenging and unwieldy issues even if we risk jeopardizing our support from corporations, government, and donors. Whether you are leading a university science program, an NGO, or any arts organization with operating funding, the challenge of remaining committed to the pursuit of truth — for example, pure science research that casts doubt on official government policy — isn't getting any easier. This is why tackling big issues like genetically modified foods and the patenting of life-forms, and the conflict between natural resource development and the need to protect our environment, are a priority for me. It's also why I've chosen to create a home for Crow's Theatre grounded in a Toronto neighbourhood, and work with my community to create a vibrant cultural and community hub — but one also committed to using art as a platform to stimulate civic and democratic engagement.
Finally, it should be said that I really believe "it takes a village to raise a theatre director" and that whatever I have achieved, I have done so with enormous support of friends, colleagues, supporters of the arts, taxpayers, as well as the love and faith of my family. I thank you all for the tremendous support and inspiration you have given me in my career thus far. I want to offer a special thank you to my wife, Liisa Repo-Martell, who couldn't be here tonight because she's acting in Montreal, for really helping shape my understanding of acting over the years. For helping me to grow in wisdom and giving me unconditional support in the pursuit of my dreams.
Now my favourite part: the protégé.
Mitchell Cushman's work first distinguished itself to me in a kindergarten classroom, and then, a second time, in a dilapidated garage in Toronto's west end. In the first instance, the mobile audience intermingled with performers, who traipsed around the room playing kids as young as four, deftly carving out the touching and disturbing inner life of a 21st-century four-year-old girl. The second was an intimate re-contextualizing of The Agony and the Ecstasy of Steve Jobs, in which Mitchell asked his audience to consider recent revelations that the play's author had "massaged" details of his documentary about Apple's manufacturing practices in China. While Mitchell's work with his company, aptly named "Outside the March," has been largely focused on "creating immersive experiences for" his audiences, this doesn't cover the breadth of his talent. His deep understanding of the dramatic muscle of his texts seems to consistently result in productions in which one feels all pistons firing at once. This couldn't have been more true than in Mitchell's laser-sharp production of Irish playwright Mark O'Rowe's Terminus — a production that had the distinction of being transferred from Toronto's SummerWorks festival to the Royal Alexandra stage — not only a sign of the quality of the work, but further evidence of Mitchell's savvy and ingenuity as a producer. As an audience member, I can always count on Mitchell's productions to satisfy my appetite for a story well told. He is also the rare breed of young director that is miraculously polite and even-tempered, while at the same uncompromising. This aspect of his character, along with the enormous rigour in his work, has made him a director that actors are clamouring to work with. It has also helped to make him a trusted leader in my city's indie-theatre community and someone that I have no doubt will be playing a big role on our country's national stage in years to come. I feel lucky to be have the chance to honour Mitchell's achievements in this way and, frankly, just to be able to cheer him on in his "full-steam ahead" journey in directing.
Chris Abraham is Artistic Director of Toronto's Crow's Theatre and is creating a permanent home for the theatre in the city's East End. He's made a name for himself through his highly successful productions seen in theatres ranging from the smallest to the largest. Recent productions include the classics The Taming of the Shrew and A Midsummer Night's Dream at the Stratford Festival, and The Seagull for Canadian Stage. He's developed and directed hit new plays such as I Claudia with Kristen Thomson, SEEDS and The Watershed by Annabel Soutar, and Winners and Losers by James Long and Marcus Youssef, all of which have toured widely. He was the first person to both win the Siminovitch Protégé Prize (selected by recipient Daniel Brooks in 2001) and be the Siminovitch recipient in 2013. A graduate of the National Theatre School, he later served as co-director of its Directing Program.
Subscribe today to the monthly e-newsletter.
> Be the first to know about current artistic projects of the Siminovitch Prize community.
> Learn about emerging artists who are shaping the future of Canadian theatre.
> Stay informed about upcoming opportunities and calls for nominations.