Image: Name, Title, Description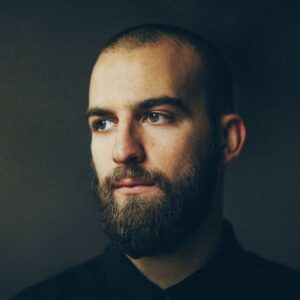 Philippe is a director, actor, and writer. He quickly distinguished himself as a creator to watch with his first ambitious plays: Détruire, nous allons, a large-scale show featuring forty  actors on a football field, and Le Vin Herbé (2016 Prix Opus, Discovery of the Year), an epic opera-theatre piece with a cast of nearly seventy  artists, presented at Arsenal Montreal. In 2018, he founded Empire Panique, the company that produced his most recent creation The Rise of the BlingBling– La Genèse, a mystical pop retelling of the Jesus Christ figure. The show premiered at Usine C, where he had previously been an associate-artist, in May 2022.

I would like to thank Marie Brassard for championing my artistic approach and for gifting me this huge dose of courage.
Marie
You who continually seek, risk, try to sketch new ways of doing things, new ways of saying things.
You who have been practicing creation for so many years, playing with form, revealing such curiosity and boldness through your approach, know that it is a truly great privilege to be your protege.
You exemplify success for me, since success, for me, means seeing one's ideas through to the end. Whatever the pitfalls, you constantly strive to emancipate yourself.
Thank you, Marie. You inspire me and help me to believe in my crazy ideas.
As an artist, I am interested in excess; in epic and multidisciplinary forms.
In 2013, my first play, Détruire, nous allons, was performed on a football field, with about thirty actors.
In 2016, we orchestrated Vin Herbé, a gigantic pop opera-theatre piece, carried by more than 70 artists in a contemporary art museum.
And most recently, in 2022, we created The Rise of the BlingBling, at Usine C; a piece that dives into the heart of a tragic and funny, completely surrealistic reinterpretation of the Jesus figure.
I've always viewed my creations as a party.
An ephemeral theatrical celebration, in which delight plays an essential part.
I picture theatre as a sport, a playground, where you have to give your all, passionately, body and soul, leaving nothing behind. And it is important to say that these wildest of dreams, these so-called "unreasonable" shows would never have been possible without the extreme generosity of the artists around me.
I would like to thank all the collaborators, with whom I have been creating for nearly 10 years, from the bottom of my heart.
Without you, there are no projects. Thanks again, friends.
Thanks to my family, for the love. Thank you for always believing in me, for giving me everything. I owe my emancipation to you.
And finally, a huge thanks to the RBC for supporting this prize and emerging artists who are trying to push the boundaries, who dare to try new things, questioning the art form. Your generosity is a big boost.
Long life to you and to your approach, Marie!
Long live the Siminovitch Prize and the people who make it all possible!
Long live the theater!
Thank you! Thank you, have a good evening!
Subscribe today to the monthly e-newsletter.
> Be the first to know about current artistic projects of the Siminovitch Prize community.
> Learn about emerging artists who are shaping the future of Canadian theatre.
> Stay informed about upcoming opportunities and calls for nominations.